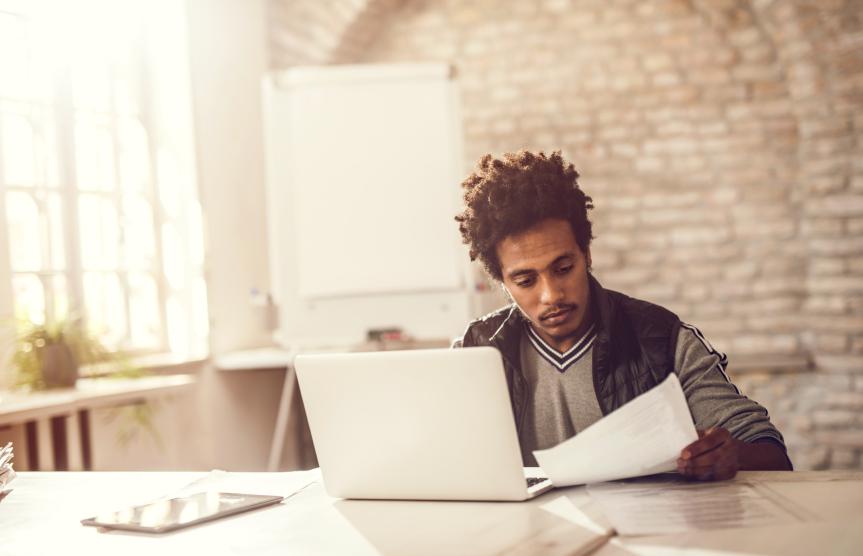 Let's face it: writing a resume can be intimidating. And the pressure to make it really sing can make the prospect of putting fingers to keyboard that much scarier. But writing the perfect resume doesn't have to be terrifying. In fact, it can be easy — if you know what you're doing.
That's what this guide is for. We'll take you through all the essential steps of crafting this career document, from how to structure its many sections to how to make sure a spelling error doesn't sneak in. We promise that when you're done, you'll want to show it off to the world. (Luckily, you can do that on Glassdoor. Simply upload your resume here, and you'll be ready to apply in an instant when you spot your dream job posted in our long list of job openings.)
What Is a Resume?
First things first: let's define a resume. A resume is a summary of your work history, skills, and education. In this respect, a resume is different than a curriculum vitae — more commonly called a CV. A CV is a complete look at your career, covering every aspect of your education, work and experience without the restriction of length. But a resume is a summary of those experiences and skills, and typically covers only 10 years' worth of employment. Unlike a CV, a resume should be tweaked and edited for each specific job for which you apply, and it should be just one or two pages long.
A resume is the most requested document in any job search — followed by the cover letter, of course. In fact, recruiters scrutinize job candidates' resumes more closely than their cover letters. So let's move on to how to structure it right.
Common Types of Resumes
Most professional resume writers will tell you that there are three main types of resumes: chronological, functional and combination.
Chronological Resume: A chronological resume is the format that you're probably the most familiar with — this is the type of resume that focuses on your recent work history above all. List your positions in reverse chronological order, with the most recent positions at the top and the oldest ones at the bottom. Ultimately, the goal is to show how your positions leading up to this point have perfectly prepared you for the role you're applying to.
Functional Resume: A functional resume, on the other hand, emphasizes the relevance of your experience. To create a functional resume, you'll prominently feature your professional summary, your skills and a work experience section organized by how closely the positions relate to the one you're applying to. This format is best for those who want to minimize resume gaps, or are transitioning into a new industry.
Combination Resume: As you might be able to guess, a combination resume borrows from both of the aforementioned formats. You'll combine the professional summary and skills section of a functional resume with the work experience section of a chronological resume. This format is a powerful way to stand out to recruiters by emphasizing both your experience and skills, and is useful for many different types of job seekers.